"The L'Etape Czech Republic is more than just two race days," says project leader
The largest, most famous, and most prestigious. In a month, the Tour de France will officially unveil the route for its 111th edition. A month later, Czech fans will experience similar excitement as L'Etape Czech Republic unveils its plans in the same spirit. The largest domestic race for amateurs.
"It's not just about the race itself and one or two specific days. We aim to positively motivate the race participants and the general public and make the most of the attention that the Tour de France brand attracts," explains Přemysl Novák, the head of the L'Etape Czech Republic project.
Popular Social rides will head to regions across the Czech Republic next year, photo by Jan Krčmář.
With two months left until the reveal of the L'Etape Czech Republic routes by Tour de France, is it already clear what road cycling enthusiasts can look forward to on Czech soil?
Yes. Our goal is to reveal the routes for both races that will take place in 2024, the classic stage on June 15 and the mountain stage on August 17. If all goes well, we will also announce the location of the mountain stage of the L'Etape Czech Republic for 2025.
Is there a possibility of expanding the number of races in the Czech Republic?
Yes. We are considering the possibility of having three races, but for next year, we will stick to two.
The races themselves will take place during the summer months. What does the connection to the L'Etape Czech Republic by Tour de France bring in the following months?
L'Etape Czech Republic is not just about one or two races or a few hours on the road. We want the event to be more than just a few hours in the saddle; it's also about the preparation. From the moment of registration, we want to establish a relationship that we want to nurture. Our goal is for people to enjoy being part of an event and a brand that goes beyond the boundaries of sport. It's not just about signing up for a race and waiting a year. It's also about being part of the L'Etape Czech Republic brand and the enthusiasm for the event, which should peak when participants cross the finish line and receive their medals. That's why we offer many activities that participants can engage in throughout the year.
What specific activities are you referring to?
We aim to significantly increase the number of popular group rides called social rides. The goal is not just to meet and have a crazy ride with constant accelerations and drop off the group but to teach people how to ride in a peloton, to help them overcome the fear of riding close to others. We have found that many people hesitate to participate in the race precisely because of the fear of cycling in a large group. That's why ambassadors like Zdeněk Štybar, Ján Svorada, and now Tomáš Bábek regularly participate in our social rides.
Unfortunately, the problem is that riding in a group is essentially impossible outside of the race because it contradicts road traffic regulations ...
Yes, we are aware of this regulation. That's why we are preparing an entirely new format for social rides.
Are you trying to secure road closures for training rides?
No, it won't be about road closures like for an excessive load. Instead, a convoy of excessive load will replace the group of cyclists. Thus, support vehicles will be marked. Currently, we are having discussions with the relevant authorities, and we plan to hold a pilot event later this year.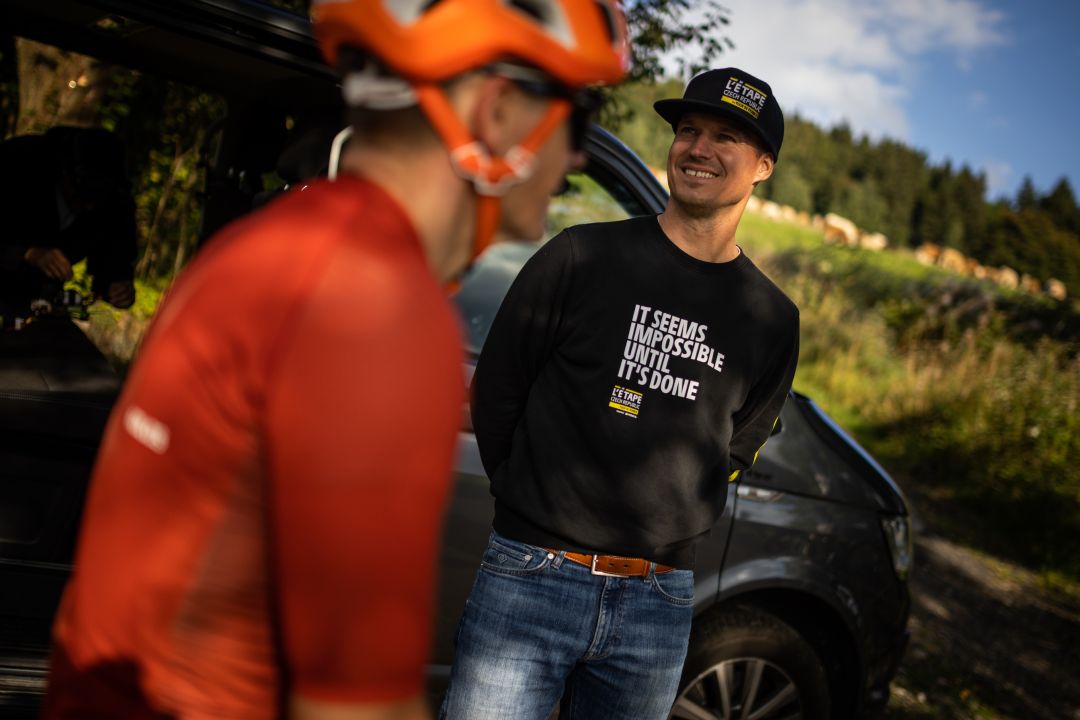 Premysl Novak - L'Etape Czech Republic project leader, photo by Michal Cerveny
Will this be a significant challenge for the organizing team preparing everything for the smooth running of the two L'Etape Czech Republic races?
Our current agenda already requires intensive communication with the police, local authorities, municipalities, and other institutions to ensure a smooth race. However, we understand that the specific date may not be suitable for everyone in terms of work or health, so there will be an opportunity to experience L'Etape Czech Republic in a different way than just in the race. Nonetheless, as I mentioned earlier, our goal is not just to get people to the race on one specific day. It's about a year-round program. Cyclists should be able to participate in the race at a relaxed pace, even close to the time limit, in a grupetto-like atmosphere. Alternatively, they can push themselves on the mountain stages or sprint sections. In any case, our goal is for them to enter the race to enjoy it, not just survive it.
How many organized social rides can fans of L'Etape Czech Republic expect?
The goal is to have one in each region, but it depends on synchronization with partners and time constraints. At the moment, I can't promise that we'll have a social ride in every region of the Czech Republic starting in 2024.
Multi-day training camps abroad, such as in Mallorca in spring or France in summer, seem to be quite popular. Are they open to anyone, not just for L'Etape Czech Republic participants?
Yes, they are open to anyone who loves cycling. The spring training camp in Mallorca is gaining popularity. Regularly, one of our training sessions is attended by our ambassador Zdeněk Štybar, and there are always people with training experience from a professional environment. On-site, we divide participants into groups based on their performance, and the main goal is to ride at a relaxed pace and accumulate kilometers at low intensity, preparing for the season. In most cases, over nine days, we cover around 800 to 1,000 kilometers at an average speed of 23 to 27 kilometers per hour. From the 2024 season onwards, we will also add a mountain training camp in May in Austria to fine-tune our form for the first L'Etape Czech Republic.
Isn't the training camp in France linked to participating in L'Etape du Tour de France? Or is it for everyone?
It's for anyone who loves cycling. For many amateur cyclists, a trip to the French L'Etape, which features a profile several levels more demanding than our race, is a highlight. The number of altitude meters climbed is enormous. On the other hand, some of the participants in the second half of the L'Etape Czech Republic results list have also experienced this cycling vacation with us. I intentionally use the word vacation. After completing the L'Etape du Tour de France race, we stayed in the area for another week because the main Tour usually has two or three mountain stages planned in that location, parts of which we ride. Or they are iconic places where the Tour periodically returns. This year, for example, we visited Col des Aravis and a thirty-kilometer-long climb from Moutiers to Val Thorens. The highlight is watching one of the Tour stages right by the roadside. I believe that from the perspective of an amateur cyclist, there is no way to experience the Tour de France more closely. Additionally, it's excellent high-altitude training, which will come in handy next year before our mountain stage.
Is it crucial for you to have a big cycling star at the start of L'Etape Czech Republic, who will enhance the Tour de France experience on Czech roads for participants?
Yes, a big personality attracts attention. In Slovenia, Matěj Mohorič is their ambassador. He's the champion of the Monument Milan-San Remo and has won stages at the Tour de France, Giro d'Italia, and the Spanish Vuelta. Amateur riders get to meet this 28-year-old star of the world peloton in his natural environment. They can chat with him, draft behind him... all in a real race, not just in a park or during training. No other sport offers such an opportunity. That's why we've had Andy Schleck and Zdeněk Štybar here. In 2024, another star will join us...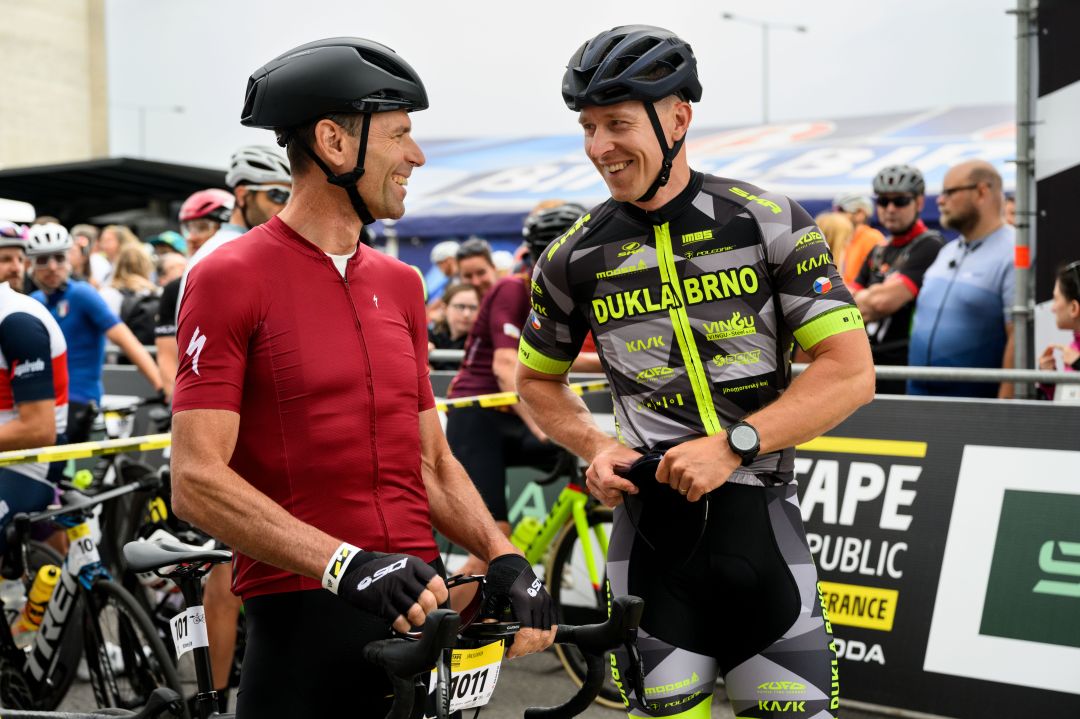 Cycling stars Jan Svorada and Tomas Babek at the start of the L'Etape Czech Republic 2023, photo by Vlastimil Vacek
Regularly before the autumn route unveiling, a representative from A.S.O., the company organizing the Tour de France, checks the suitability of the route. Is this a quality mark that elevates L'Etape Czech Republic to a different level?
By granting us a license, A.S.O. places trust in us and expects results that correspond to the Tour de France brand. They don't restrict us in any way; we just need to follow the organization's protocol, which still gives us a lot of creative space. But in the end, their evaluation is quite strict: it's either good or bad. Of course, we also receive feedback. It's a great testament to us that we consistently receive the top rating and that some of the innovations we've implemented have been adopted by other races worldwide.
Do you plan to unveil the route this year in a way similar to the actual Tour de France, with the presence of the public, cyclists, media, and TV cameras?
Yes, that's another aspect that aligns with our motivation to give participants a touch of the Tour de France. When registered participants read in the media where the race with a famous name will go, they are essentially reading about themselves. They are the stars for whom this spectacle takes place. We could choose the easy route and simply publish a map on our website. But the race name, in my opinion, comes with certain obligations. It also interests the non-cycling public.
Are you succeeding in raising awareness of L'Etape Czech Republic abroad and increasing the interest of foreign cyclists?
We are gradually succeeding. We have only had three editions so far, with two of them affected by the COVID-19 pandemic. Last year, we organized an event for foreign cycling journalists, where we showed them the Czech countryside, Křivoklátsko, and several other interesting locations. Representatives from media in Denmark, Spain, Italy, Poland, and the UK attended. Through the L'Etape Czech Republic brand, we sent the message that the Czech Republic is an interesting destination for road cycling enthusiasts, and as a country, we have a lot to offer to cyclists. We aim to continue with these events in the future.