How to train effectively in winter?
In most cases, only hardened or very motivated riders do enjoy winter cycling! From the clouds, rain or snow falls every now and then, added to which the frost makes the roads and the forest paths slippery. Mudguards set into the forks are not omnipotent to stop water yearning to get to your body. How do you force yourself to train, not succumb to gauching, and keep fit so that the first spring miles in the saddle of a bike aren't torturing?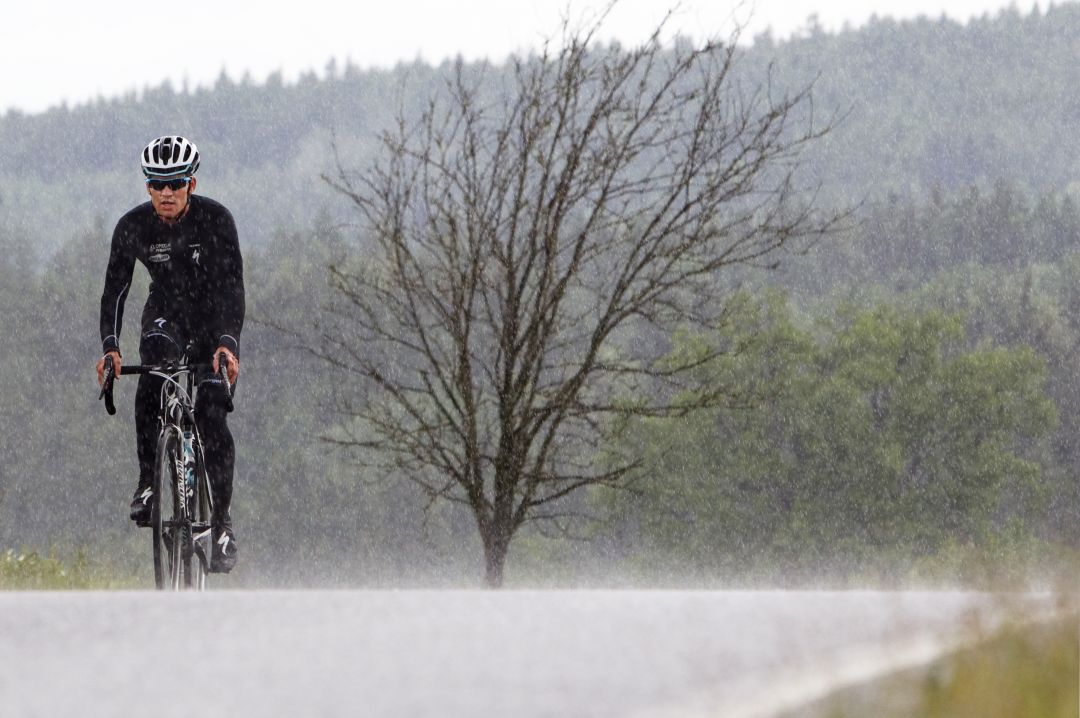 Zdeněk Štybar, photo: Markéta Navrátilová
After all, we all know that spending all your free time during the winter in a horizontal position does not bode well for the cycling season. Yet, the biggest amateur challenge on the domestic road calendar in the form of the L'Etape Czech Republic by Tour de France starts on 11 June! So how you should keep yourself fit during the winter?
Training plan
Promising myself in my head to just get down to the hard work is absolutely useless! Studies from many universities confirm that putting a training plan on paper is the ideal way to achieve your goals! It is absolutely best to complete individual tasks in a group as the chances of achieving your goals are much higher.
Sure, in times of pandemic, this is a bit of a tricky point, but we are overwhelmed with all sorts of apps that make it realistic to compete with a partner in their living room who is hundreds miles away.

Either way, don't prepare a training plan from one day to the next. If you set out to build a training plan based on your own experience and times achieved in the previous season, set realistic goals. Define what you need to focus on. Whether you are weaker on steep climbs, couldn't handle the higher pace on gentle and steep gradients, or dropped off at the end of long runs regardless of the final course profile.
Don't be afraid to consult the plan with experts such as personal trainers/coaches. If you decide to invest in the services of professional coaches the improvement will be extraordinary. It would probably be foolish, if you dream of making breakthrough progress to rely solely on a self-developed plan at home.
Howver, you should be aware of a lot of self-proclaimed experts on physical training, starting and ending with nutrition. Websites and social networks are full of such "experts" so choose wisely. From our own experience, we recommend the KOA training centre located in Prague, Letná. It is not without interest that the winner of the first year, Daniel Turek, is their ambassador.
DON'T JUST SIT ON THE TURBO TRAINER
Spending all winter on a stationary bike or rollers is exhausting, despite the advent of various virtual apps. If you need to complete four workouts a week, a change is highly desirable.
Opening hours of Fitness centres are more like a lottery during the pandemic. However, try to combine cycling activities with other sports, despite the pitfalls, so that the preparation is properly varied.
Try to hit the pool at least once a week because swimming will stretch muscles you may not even know you have. Plus, it will be an excellent recovery. If you do go to the gym from time to time, don't try to break records. Instead, try to use a rowing machine which provides an extraordinary diversion that helps to develop the fitness of the whole body.
Don't neglect Nordic walking. With poles, you can just go for a nice hike around your neighboroughood, it doesn't have to be the Alpine giants. And it will be a great service for the circulatory system. A fantastic cardio workout during winter monhts is also ski mountaineering or classic skiing. You can enjoy and try both activities on our STOPA PRO ŽIVOT or ZAŽIJ SKIALPY series.
TRAIN INTERVALS INDOORS
If the weather allows you to train outdoors and you want to change the environment at least once in a while, definitely think about the volume phase. On cold days, it is pointless to train intervals because the airways (mucous membranes) will be weakened and can very easily succumb to attack by viruses or bacteria.
In addition, intense fast riding will mean more sweating, and despite the best material equipment, in such a constellation a certain percentage of moisture will remain on the skin, hence you will catch a cold.
Direct interval training or high intensity exercise indoors. This will definitely benefit the quality of your training. Stationary bikes, like treadmills, provide a very fast and effective way to train. Get involved in L'Etape 2022 activities on the Rouvy platform. Several joint training sessions in a virtual environment as well as races on the L'Etape 2022 route are planned.
There is no idling, so every turn of the pedal counts. No junction or roundabout, no clogged road and last but not least no rain will throw you off your rhythm... Try to keep the shorter training units within the week, and leave the longer ones for the weekends.
CLOTHING HELPS TOO
There is one subtle but very important rule when it comes to indoor activities. Cyclists usually use old clothes that they are ready to discard from their wardrobe.
But while you often ride out of the saddle in the field and generally change the position from which you push the pedals, whereas indoors you are in one position most of the time, so bad and worn out underwear, especially in the case of trousers, can cause big problems.
In addition, investing in new clothes is also positive for your self-esteem. Coaches confirm that when training in groups, that athletes who wear new activewear perform a few percent better, hence their motivation to workout is better.
And where else to equip yourself in style than at the race partner - the Kalas company from Tábor?
MOTIVATION
The secret to success is largely in the head. Staying positive during winter training, unless you have the chance to go cycling somewhere warm, is not easy. If you do most of your training individually this is a really key part of your preparation. Record every improvement, try to set specific small goals for each day of training. And listen to your body because recovery is just as important as the training itself!