SCHEDULE AND ACCOMPANYING PROGRAMME
Schedule of the main facilities of L`Etape Czech Republic by Tour de France

The race is coming soon and it is a perfect time to reveal the detailed schedule. You can read all the important information, such as that the presentation of the racers will take place primarily on Friday and on the same day we have discussions and workshops for the race. In Saturday's programme you will find out what time you start, what you can visit in the village and what time the results will be announced.

Place: Prague Strahov - Vaníčkova street
FRIDAY 27.8.

10:00 Opening of the L'Etape Village
Presentation of the competitors - picking up the start package
For a smooth check-in process, we strongly recommend picking up your race package during Friday
The first 500 presented will receive a gift (original L´Etape bidon or French travel guide)
10:00 - 20:00 Tour de France Museum and partner zone
ŠKODA Children's Transport Playground
12:00 - 19:00 Riders meeting every hour (route presentation and markings, signals from the organisers, behaviour on the course)
16:30 Discussion with Ján Svorada followed by an autograph session
18:00 Riders meeting with the participation of a professional racer
20:00 Closing of the L´Etape village
-----------------------------------------------------------------------------

SATURDAY 28. 8.
8:00 Opening of the L´Etape Village
8:30 - 18:00 Tour de France Museum and partner zone
ŠKODA Children's Transport Playground
8:45 Closing of the start number distribution long route
9:20-9:35 Entrance to the corridors Long route
9:45 START Long Route
10:00 - 16:00 02 Tour de Strahov - tracking game
10:00 Closing of the start number distribution short route
10:35 - 10:50 Entrance to the corridors Short route
11:00 START Short route
13:00 Estimated arrival of the winner of the Long Route
13:15 Estimated arrival of the winner of the Short Route
14:30 - 15:00 French band Chouette
15:00 - 15:15 ANNOUNCEMENT of the absolute winners of the long and short routes
15:15 - 15:35 Autographing of the winners and well-known personalities of the cycling world
15:35 - 16:05 Bike O'Clock exhibition
15:05 - 16:30 French band Chouette
16:30 - 17:15 Announcement of category winners and special prizes
17:00 Time limit for the finish of all competitors
19:00 Closing of the Village
--------------------------------------------------------------------------------------------------------------------------------------------
ACCOMPANYING PROGRAMME
O2 TOUR DE PETŘÍN

A fun tracking game for families with children. The task is to find the stops according to the clues in the special app, where tasks are completed and answers to quiz questions thematically related to the Tour de France.

The game will be prepared in two difficulty levels:

Parents with children aged 6 - 10 years (time difficulty 25 - 45 minutes)
Parents with children or groups of youngsters aged 10 - 15 years (time difficulty 45 minutes to 1 hour)
Participants are expected to move between sites on bicycles; the route can be completed on foot, but more time should be set aside for the activity.

After successfully completing the route, there will be a reward from the activity partner O2 at the finish line.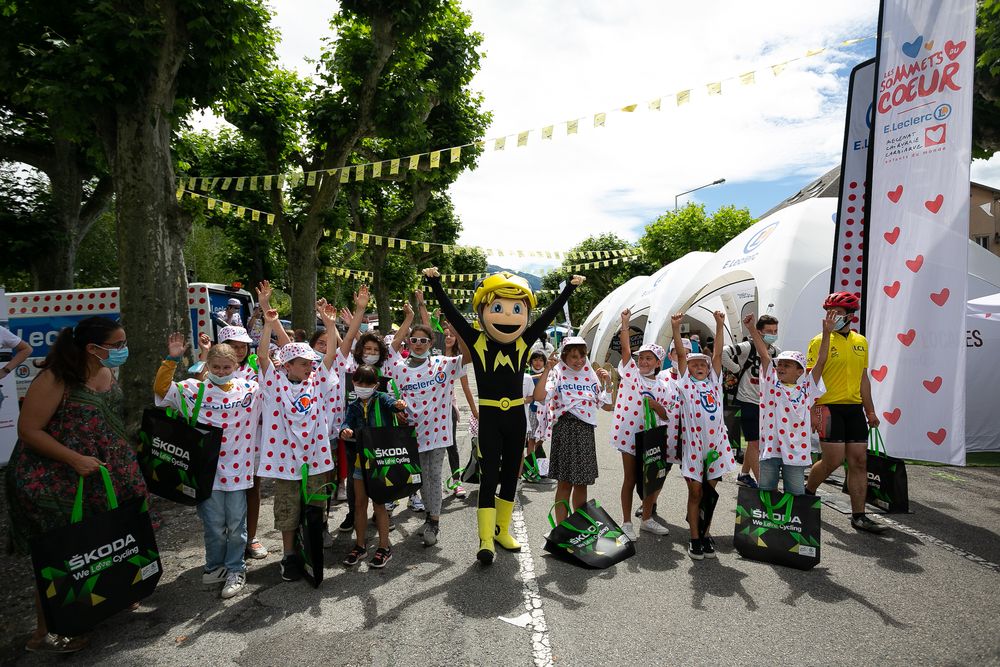 PARTNER PRESENTATIONS:

Škoda Showroom - in the showroom you can enjoy the cars, bikes and other products in the Škoda range. Škoda Auto will also prepare a traffic playground for cycling youth who will visit the event with their parents.
O2 Guru - service and advice on mobile technologies, the possibility of borrowing a charged power bank, O2 TV lounge - try out sports channels on O2 TV Sport
Paul - French café and bakery with a tradition since 1889
Tour de France Museum - everything you wanted to know about the Tour de France and were afraid to ask. The history of the Tour, the jerseys and trophies handed out, the original Tour de France winner's trophy from Lasvit and the Director's Enyaq from Tour de France will be on exclusive show.
Fanshop - Fanshop with original clothing and pieces from the Tour de France and L`Etape Czech Republic by Tour de France
Harp Sport - bike presentation and sports equipment sales
PRE - presentation of electric bikes
Kalas - Producer of an exclusive collection of jerseys for L`Etape and exclusive manufacturer of jerseys for the Alpecin-Fénix stable whose main star is Mathieu Van der Poel.
EthicSport - sports nutrition before, after and during performance
Rouvy - the opportunity to try out smart bike trainers
Kolofix - top bike service. Get your road special tuned up for the race.
Birell chill-out zone - relax after the race